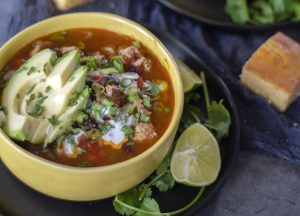 I'm taking a quick break from Thanksgiving posting to get this chili up here, not only because it's one of my favorite chilis but because with replacing the ground chicken with leftover Thanksgiving turkey meat you have a new amazing dish. And you also feel awesome about yourself because you used up the leftovers and made a great and healthy new dish!
If you are not in need of using up your leftovers, ground chicken works beautifully here, take a peek at the recipe and you're good to go!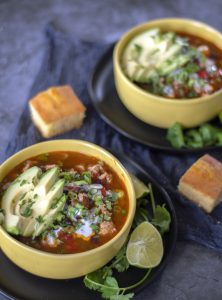 Chipotle Chicken Chili
1 1/2 to 2 lbs of ground chicken (or turkey)
1 red bell pepper, diced
1 large yellow onion, diced
2 large celery ribs, diced
4 garlic cloves, minced
1 can black beans
1 can kidney beans
2 cans fire roasted tomatoes
2 chipotle peppers, minced + 1 Tbsp of the adobo sauce
2 Tbsp olive oil
2 Tbsp chili powder
1 Tbsp cumin
salt and freshly ground black pepper
I make this chili in the Instant Pot, it is super easy but I will leave the instructions for the stove top as well.
Set the Instant Pot on Saute and add the olive oil to it. Cook the onions and celery for about five minutes and then add the chicken, season with salt and pepper and cook it until it is no longer pink. Add all the other ingredients, season more if needed and cover and seal the vent. Cook on high pressure for 30 minutes. You can then manually release the pressure or let it natural release.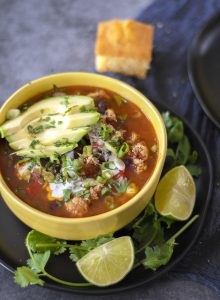 If you are making it on stove top add olive oil to your pot and saute onions and celery for about 5 minutes then add the chicken and season with salt and pepper. Cook until no longer pink then add rest of the ingredients, season more if needed and cook partially covered for one hour.
Serve topped with Mexicana crema, cilantro, green onions and avocado.