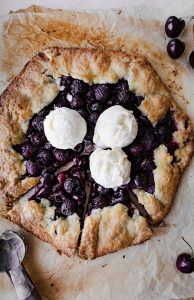 I am lucky enough that we still have cherries in my grocery store and I am enjoying them for as long as I can. I wanted to share this beautiful cherry galette with you today. I honestly think it is so easy to make and it's such a beautiful dessert, especially with some vanilla ice cream on top. The cherry juices mixed with the melting ice cream on the warm galette, it's literally heaven. As you will see on the last photo down in the post, this is what was left five minutes after I took my photos and allowed my boys to dig in. The galette never made it on the plates, they just went for it right there on my parchment paper on top of my backdrop, spoons in their hands, smiles on their faces. I may have happily joined in. We left a piece for my hubby. Proof on the bottom of the post, ha!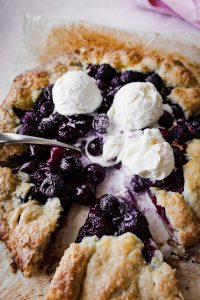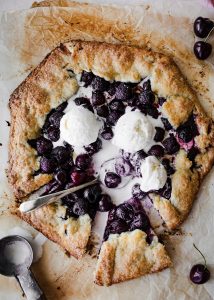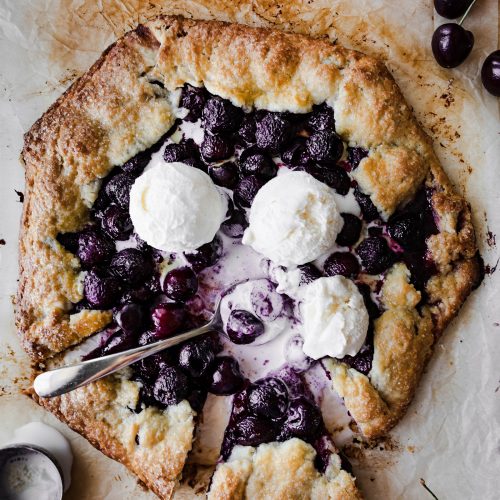 Cherry Galette
Flaky pie crust wrapped around sweet juicy cherries, topped with vanilla ice cream
Ingredients
For the crust:
1 1/2

cup

all purpose flour

2

sticks

butter

cubed and frozen for 20 to 30 minutes

3

tbsp

sugar

1

tsp

salt

1/4

cup

water

ice cold
For the cherry filling:
1 1/2

lb

cherries

pitted

1/3

cup

sugar

2

tbsp

lemon juice

zest of one lemon

3

tbsp

all purpose flour

2

tbsp

plain bread crumbs

Turbinado sugar

to sprinkle on the crust

1

egg

for egg-wash

Vanilla Ice cream
Instructions
Cube your butter and put it in the freezer for 20-30 minutes.

In a food processor pulse the flour, sugar and salt then add the butter and pulse until butter is about pea size. While still pulsing, slowly add the ice cold water one tablespoon at a time until the dough starts forming.

Transfer the dough on plastic wrap, shape into a disk. Wrap it and let it rest in the refrigerator for about 30 minutes.

Preheat the oven to 375 degrees.

Pit the cherries while the dough is resting and mix them with lemon juice, zest, sugar and flour.

Take the dough out of the refrigerator and roll it out to desired size on a well floured surface.

Sprinkle the bread crumbs on the crust stopping within three inches of the edge. The bread crumbs will help soak up some of the juices and prevent the crust from becoming soggy.

Top the crust with the cherries and carefully spread them around. Make sure you leave 2 1/2"-3" inches all around free of topping because now you will carefully fold it to create your galette. I went around and folded the crust about eight or nine times. Make sure that everything is sealed then beat one egg and brush it on top of the crust. Sprinkle with Turbinado sugar for a nice extra crunch and then put into the oven and bake for 40-50 minute or until crust is nice and golden brown and the filling is bubbling.

Once out of the oven let it cool for a few minutes then top with vanilla ice cream and enjoy!