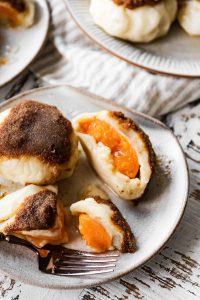 Apricot potato dumplings, or how we call them in Croatia – Knedle, is a very dear dish to me. My grandmother made the best knedle ever and it was one of my favorite dishes she would prepare for us. Every time I make them and eat them, or even think of them, I think of her. She isn't with us anymore and I want to believe she is closer to me when I make her dishes the way she did them. This is one of those dishes and my son also happens to love them. They do not last long in our house, rarely do we have leftovers! Knedle can be filled with apricots or plums, and I honestly can't tell you which I love more, both are absolutely delicious and now that we ate our weight in apricot knedle, I will be making them with plums soon!
Knedle are made very similarly to gnocchi dough, they are just filled and shaped differently but the dough is potato based and pillowy soft. We traditionally serve them with fried breadcrumbs – trust on this – and sugar on the side or sprinkled on them. A friend once looked at them a little hesitantly, but once she tried them she scarfed down a few happily and said she never had anything like it. I hope you give it a try!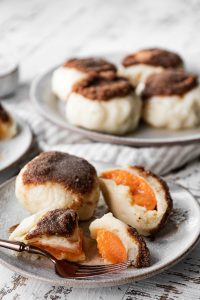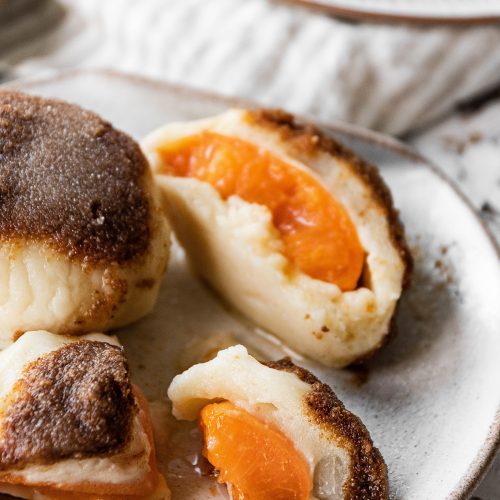 Apricot Knedle
Apricot filled potato dumplings
Ingredients
For Knedle
8-10

medium potatoes

4

tbsp

butter

3

eggs

all purpose flour

(you will need a few cups, depends on how much water your potatoes hold)

1/4

tsp

salt

3

tbsp

sugar

10-12

apricots

pitted and halved

sugar and sugar cubes if available

for topping the apricots and for serving

rum extract
For Fried breadcrumbs:
1/4

cup

canola oil

1/3

cup

plain breadcrumbs
Instructions
First I boil the whole potatoes and once they are done and cooled just a bit I peel them. Then I put them through the potato ricer and make a little hill with a hole in the middle. In it I put eggs, butter and 1/4 tsp of salt.

With your fingers start mixing it all together and slowly you start incorporating flour into it. How much flour you will need depends on how much potatoes will take, so just start with a cup or two and go from there. You just need the dough to stop being sticky, the less flour you use the better dumplings will be.

Kneed the dough for good 5 minutes and then let it rest for 5. Roll it to 1/2" thickness and cut into squares about 3x3 inches.

On each square put one half of an apricot with 1 sugar cube or 1 teaspoon of sugar in it. Pour 2 drops of rum extract on the sugar and then pull the dough over the apricot. Form a ball and roll it making sure it is sealed good. I like to use spiced rum that I add a teaspoon of rum extract to and use that for pouring on the sugar, I then use a bit more than a drop, more like 4 or 5 drops. If using only the extract top each with about 2 drops

In a large pot boil water with salt and then lower the heat to medium, like you would for cooking gnocchi. Put a few dumplings in at a time (I put 6 at a time) and boil until they swim on top or for about 8-10 minutes.

Traditionally in Croatia we eat these with breadcrumbs on top. It is really simple. In a pan heat up the oil and then put some breadcrumbs on it and stir for a few minutes. When they darken a bit they are done and this is what you pour over your cooked dumplings. Serve with some extra sugar on the side and enjoy!
Notes
If you have sugar cubes, they are really convenient to put one on each apricot half but I didn't have them this time so I just put a teaspoon of sugar and it worked just fine.