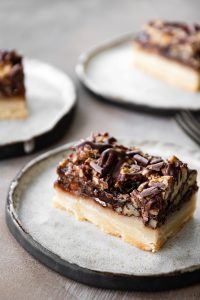 I wanted to make a new dessert for my boys, something that still says Thanksgiving, but it isn't necessarily pumpkin. We love pumpkin desserts for sure, but I was in a mood for something different. I knew I also wanted it to be some kind of a pan dessert that can be cut, but not a pie. However, I've had pecan pie on my mind for a while. Since cookies are probably my kids favorite treats I tried to combine it all into one and decided to make Chocolate pecan cookie bars. I wanted it all, a good thick cookie base, gooey and chocolatey center and pecans for flavor and crunch. My son Mika says this is one of the best desserts ever, and he doesn't even like nuts! My husband told me to never make it again hahaha, not because it wasn't good, but because it's too good. And it isn't exactly a light dessert, so when he couldn't stop himself from eating it there was trouble. I will for sure make it again though, I will just make sure to hide most of it and not tell anyone where it is. Because there's no way I'm depriving myself of this one, way way too god!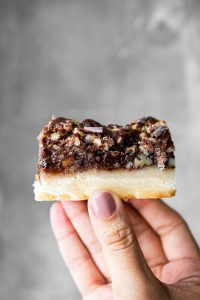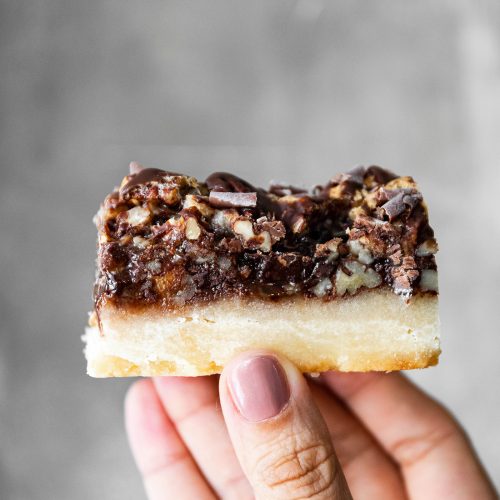 Chocolate Pecan Cookie Bars
Ingredients
4

sticks

melted butter

1

cup

sugar

1

tsp

salt

4

cups

flour

2

tsp

butter extract

4

large eggs

2

cups

sugar

1 3/4

cups

light corn syrup

2

tsp

vanilla extract

3

tbsp

melted butter

2

cups

chopped pecans

plus a few more halves for the top

2+1/2

cups

semi sweet chocolate chips
Instructions
Preheat the oven to 350 degrees.

Combine four sticks melted butter, one cup sugar and 2 teaspoons butter extract. Add in the flour and salt and mix well, then transfer into greased 9X13 pan and bake for 18-20 minutes,

Mix together eggs, 2 cups sugar, vanilla, corn syrup and melted butter, then fold in the pecans and 2 cups of chocolate chips. Pour over the top of warm cookie and carefully place some pecan halves on top. Return to the oven and bake for 35-40 minutes or until the filling is set. Let cool for 30 minutes then drizzle 1/2 cup melted chocolate chips on top. I melt the chocolate in 30 second intervals in the microwave.

Once completely cool, transfer into the fridge for at least two hours before cutting and serving. This is very rich and you can either cut it into bars or smaller cubes. The cookie bars will keep in the fridge for up to a week.