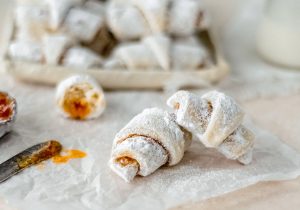 I'm in full blown Christmas prep and baking mood and these cookies are perfect for my platter of goodies for the guests that we will have in the coming days! The dough is made with sour cream and it's very flavorful but not too sweet and then there is apricot jam – my favorite jam – to balance it all out and really make you feel like you are eating a treat! I've had these cookies growing up, my Aunt makes them but with plum jam and she shapes them just a bit differently. Quite honestly, I haven't mastered her way yet but my way works just as well, right?
How are you guys doing with your prep? Have you begun your baking? What are your family favorites?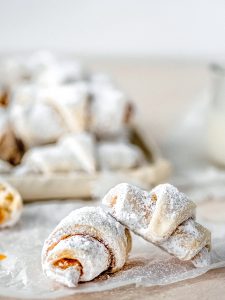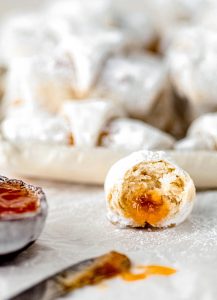 Sour Cream and Jam Roll-up Cookies
2019-12-16 23:40:31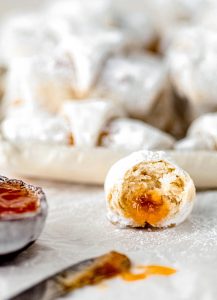 Serves 24
Nutrition Facts
Amount Per Serving
* Percent Daily Values are based on a 2,000 calorie diet. Your Daily Values may be higher or lower depending on your calorie needs.
Ingredients
7 cups (1kg) flour
2/3 cups (150g) cold vegetable shortening
2/3 cups (150g) butter (frozen and grated)
2 egg yolks
16oz (450g) sour cream
1/3 cup (80ml) of rum
1 tsp rum extract
peel of two lemons
1 tsp salt
2 pkg active dry yeast
1/2 cup (100g) sugar
few Tbsp of milk if needed
apricot jam
confectioners sugar for rolling the cookies in
Instructions
Put your flour in a bowl of a kitchen stand up mixer and add the lemon peel, sugar and yeast and mix. Add the shortening, butter, egg yolks, rum and sour cream and mix until it forms into a bowl. If it is too dry add a little bit of milk.
Cover it and let it sit for an hour then divide in two and work with one part of the dough at the time. Put the dough on a floured surface and roll it into a pretty thin rectangle, about 1/4″ or just under. Cut the dough into small triangles (I use my pizza cutter for this) the bottom width being about the length of your finger and height about 1 1/2 that. Put about a teaspoon of jam on each triangle and spread it then roll them into essentially tiny croissants.
Put the cookies onto a baking sheet lined with parchment paper and bake at 350F for about 15 minutes or just until you notice them starting to get some color on the edges then take them out and let them cool until you can hold them in your hands so you can handle them comfortably. Roll them in confectioners sugar generously and they are ready to be devoured.
I only keep out what we are going to eat and freeze the rest and take them out as needed but they keep just fine outside for at least a week.
Mogwai Soup Blog http://www.mogwaisoup.com/