Hi. Meet Sarma, my most favorite dish in the whole white world and also, just as importantly, my husbands favorite Croatian dish. What is Sarma you ask? It is a mix of ground meat and rice wrapped in pickled cabbage leaves and cooked with more sliced cabbage and smoked ham hocks or bacon. It may not sound the most appetizing but trust me guys, this dish is literally exploding with flavor. Yes it is slightly sour but in the most delicious way possible and served with yummy mashed potatoes or good bread (or both)…there is literally nothing better. This dish is IT for me. Perfect wintery comfort meal.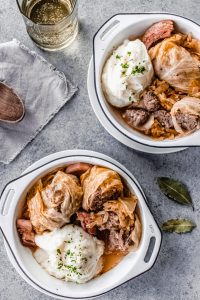 Sarma
2019-12-16 23:09:13
Serves 10
Nutrition Facts
Amount Per Serving
* Percent Daily Values are based on a 2,000 calorie diet. Your Daily Values may be higher or lower depending on your calorie needs.
Ingredients
2 heads of pickled cabbage
2 lbs ground beef
1.5 lbs ground pork
1 lbs smoked meet like bacon or ham hocks (or combination)
1 yellow onion, finely diced
canola oil
2 cloves garlic, finely minced
1 egg
1/2 cup white rice
2 bay leaves
1 tsp tomato paste
1 tsp paprika
1 beef bouillon
salt and pepper
water
Instructions
Saute the onions in a little bit of oil until softened then let them cool for a few minutes before adding them to the ground beef and ground pork. Add in the garlic, egg, salt and pepper and rice. Add about 4-5 tablespoons of water and mix it all well with your hands. Let the mix sit for about an hour.
Take your cabbage head and carefully separate the leaves from the first head. I always use the outer leaves first because they are bigger and easier to roll. Once the leaves of the first cabbage start getting too small I move on to the other cabbage.
Once the meat mixture has rested for an hour start making your Sarma. Take one cabbage leaf and about small handful of meet and shape it slightly in an oblong shape with your palm. Roll the cabbage leaf around it and secure both loose ends of it by tucking them inside the middle of each side, creating little cylinder packages. Keep doing this until all the meet is wrapped and then very thinly slice rest of the cabbage.
Get a large pot (sometimes I don't have a big enough pot and make it in two) and put some sliced cabbage on the bottom then start arranging Sarma in a single layer. Add some ham hocks and/or smoked bacon then top with more sliced cabbage and another row of Sarma. Finish with more sliced cabbage and rest of the smoked meet, add more salt and pepper, bay leaves, paprika and tomato paste. Pour water to almost cover everything, add the bouillon and cook for an hour and a half to two hours.
I serve Sarma with mashed potatoes and good bread and this dish gets better as it sits so the leftovers the next day and especially the one after are amazeballs! I always freeze a few servings too for a great meal when I don't have too much time to cook dinner. I'm always so happy to grab it out of the freezer. When I reheat it from the freezer I let it defrost then add a little bit of water to it and let it come to a boil and cook like that for a few minutes.
Like I said, this might sound a bit weird if you've never heard of it, but it is my favorite meal ever, I hope you try it!
Notes
This is a big batch of Sarma, feel free to half the recipe if you don't want to make a lot.
Mogwai Soup Blog https://www.mogwaisoup.com/