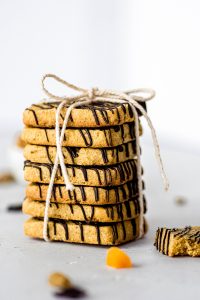 I've been really enjoying baking Christmas treats these past few weeks, there is only one or two left to do and I will be satisfied. I couldn't let Christmas come without baking some sort of shortbread cookie, every year I try a different flavor combination and this year I really felt like making a pistachio one. I thought it would be fun to add some chopped dry apricots to them for extra texture and sweetness and I really like how they turned out!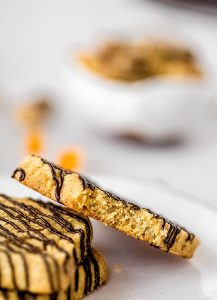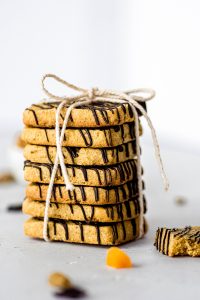 Pistachio and Apricot Shortbread Cookies
2019-12-16 23:14:48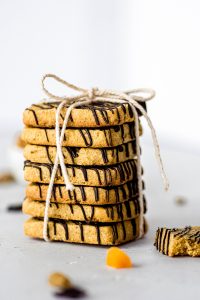 Serves 10
Nutrition Facts
Amount Per Serving
* Percent Daily Values are based on a 2,000 calorie diet. Your Daily Values may be higher or lower depending on your calorie needs.
Ingredients
2/3 cup pistachios
3/4 cup all purpose flour
4 oz butter (cold, cut into small pieces)
1/3 cup sugar
1 tsp vanilla bean paste (I use the one that is on my favorites page)
generous pinch of salt
1/3 cup chopped dry apricots, mixed with 1 tbsp flour
1 egg yolk
(if you want to do something extra – semi sweet chocolate for drizzling or Turbinado sugar)
Instructions
In a food processor pulse the pistachios with sugar until they are roughly ground. Add flour and salt and pulse. Add the vanilla, butter and pulse until the dough is starting to form then transfer onto lightly floured surface and add apricots and mix with hands just until it is all incorporated. Shape it into a log (or in my case a long rectangle), wrap into plastic wrap and put into the fridge for at least an hour.
Preheat the oven to 350 F. Slice into 3/8″ slices and arrange on a baking sheet lined with parchment paper. If you will drizzle chocolate on it later just put it in the oven and bake for about 15 minutes just until they are staring to get some color on the edges.
Alternatively you could top each cookie with a pinch of Turbinado sugar before putting into the oven for a nice finish and extra texture. I'd then skip the chocolate.
If you want to drizzle them with chocolate, I just melted 1/4 cup of semi-sweet chocolate chunks and put them into a small zip lock bag. I cut the very top of the bag and drizzled each cookie with some chocolate. Super easy but makes them very pretty!
Mogwai Soup Blog https://www.mogwaisoup.com/