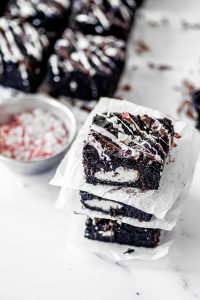 Guys, everyone is stuffing their brownies with all these different kind of treats and I am totally here for it!!! I wanted to make peppermint brownies and when I found Lindt peppermint white chocolate truffles at the store I knew that's what I wanted to do! My kids loved these brownies so much and they are so festive, aren't they?!?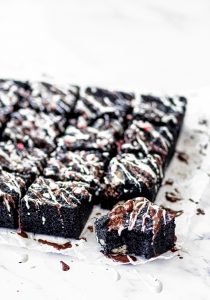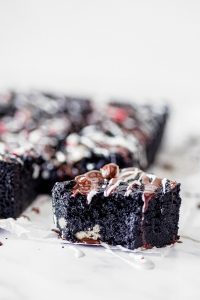 Chocolate Peppermint Brownies
2019-12-16 23:19:18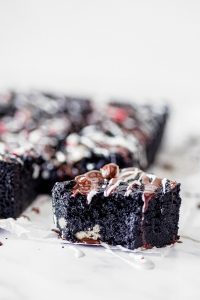 Serves 12
Chocolate Peppermint Brownies made even more special with Lindt white chocolate and peppermint truffles inserted in the middle.
Nutrition Facts
Amount Per Serving
* Percent Daily Values are based on a 2,000 calorie diet. Your Daily Values may be higher or lower depending on your calorie needs.
Ingredients
12 Lindt Peppermint White Chocolate Truffles
1 1/4 cup butter, melted
1 1/2 cup sugar
1 tsp vanilla extract
few drops of peppermint extract
3 eggs
3/4 cup all purpose flour
3/4 cup special dar cocoa powder
2 crushed candy canes
1/4 tsp salt
Instructions
Preheat oven to 350F. Grease an 8×8″ baking pan.
Beat together melted butter, sugar and vanilla and peppermint extract, then beat in eggs one at a time. Combine dry ingredients in small bowl, and then gradually stir into butter mixture by hand. Prepare the pan by generously rubbing butter all over it then putting some flour in it and covering it well, getting rid of any extra flour. Pour the batter in the pan and then evenly distribute the chocolate truffles in the batter pushing them just slightly but not all the way in. Sprinkle the candy canes on top.
Bake for 35-40 minutes, or until a toothpick inserted in the center comes almost clean. A few moist crumbs on it is fine.
Cool completely before cutting and serving.
Mogwai Soup Blog https://www.mogwaisoup.com/