Well, I finally did it. I made chicken biryani, one of my favorite things to order when we go out to an Indian restaurant!
I was so intimidated with this dish, I worried about every step but especially the rice turning out good. And now I ask myself, why I didn't do this sooner?!? It turned out soooo good! And I think the rice came out absolutely perfect. I ordered this rice from Amazon and I soaked it like the instructions say to do, then boiled it about 70% of the way and then it finished cooking layered with the rest of the ingredients. I also made my life easier by getting this Biryani spice mix. It turned out so great and now I'm going to be making this all the time!!
I looked at a lot ofrecipes before creating this and realized there are so many versions and I felt ok completely winging it. I made my own and what I want you to get out of this is that if you have some favorite foods that you like to eat out but you feel insecure making home, just go for it! Worst thing that can happen is something doesn't taste great and then you get to learn from that example and try again. Like no one even has to know!
Now that I've got a nice collection of spices I cannot wait to try to make some other dishes. I love lamb coconut curry so that one might be next!
Oh one more thing. Make homemade naan to go with this, you just have to. It was so easy!!! I made this one.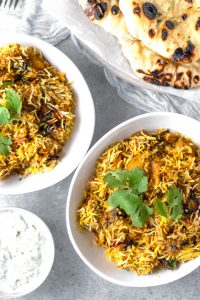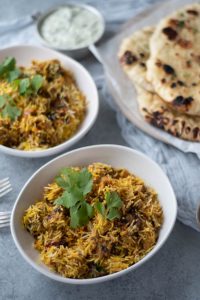 Chicken Biryani
2020-01-17 16:32:00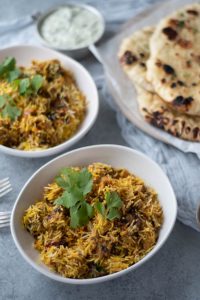 Serves 10
Chicken curry, caramelized onions and rice layered dish.
Nutrition Facts
Amount Per Serving
* Percent Daily Values are based on a 2,000 calorie diet. Your Daily Values may be higher or lower depending on your calorie needs.
for chicken marinade
8 chicken thighs cut into quarters
4"knob of ginger, minced
10 garlic cloves, minced
1 cup chopped cilantro
1/4 cup chopped mint
1 onion, diced
1 1/2 cup plain yogurt
2 Biryani spice mixes
1 tsp turmeric
1 tsp red chili powder
*if you like extra spice you can add 1-2 minced Serrano peppers, I didn't because that would be too much for my kiddos
For the onions
2 large thinly sliced onions, caramelized
canola oil
to cook the chicken
2 tbsp ghee
2 tbsp canola oil
4 Roma tomatoes, seeds removed and chopped
3 bay leaves
for the saffron milk
2 tbsp milk
generous pinch of saffron
for raita
1 cup finely grated cucumber
1 cup plain yogurt
2 tbsp finely chopped chives
1 green onion, finely chopped
2 tbsp lemon juice
1/2 tsp ground cumin
1/2 tsp ground coriander
2 cloves minced garlic
3 tbsp chopped cilantro
3 tbsp chopped mint
1 Serrano pepper, finely minced
salt and pepper
toppings
4 tbsp chopped cilantro for topping
1 tsp rose water
Instructions
I like to marinate chicken overnight so I did this step the night before I made Biryani.
Put all of the ingredients for the marinade in a bowl with chicken, mix it all well and cover with plastic wrap and put into the fridge. Just let it be happy for at least 4 hours if you didn't do it the night before.
This dish is layering the chicken with rice and fried or caramelized onions so slice two large onions thinly (I used yellow onions) and cook them in oil until nicely deeply brown. I did something between frying and caramelizing them, I can't really say they are fully fried but they are definitely not cooked low and slow either.
To make raita cut your cucumber lengthwise and remove the seeds then grate it into a bowl. Add the rest of the ingredients - yogurt, chives, green onion, lemon juice, spices, herbs, Serrano and garlic and mix well. Put in the fridge until you are ready to use.
Take your milk and add saffron to it and let it sit while everything cooks.
Rinse your rice twice then soak for 30 minutes. Boil it about 70% of the way.
To cook the chicken start with putting the ghee and oil in a pot and cook the onions and tomatoes for about five minutes. Add the bay leaves and the marinated chicken. Cook until the fat is starting to separate, 15-20 minutes.
Now remove half of the chicken from the pot and add half of the rice and layer half of your onions on top. Add back the rest of the chicken and then the rest of the rice and onions on top.
Spoon the saffron milk on the top in a few spots and add a teaspoon of rose water spreading it over. Sprinkle with cilantro cover and cook for about 10-15 minutes until rice is cooked through.
Serve with extra fresh cilantro on top and raita and naan bread on the side.
Notes
This is a big serving, you could easily half the recipe to feed 4-5 people. I wanted lots of leftovers!
Mogwai Soup Blog http://www.mogwaisoup.com/