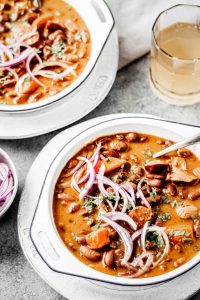 This is one of my favorite dishes, another one I grew up with and one of the most common dishes from Croatia, the bean soup or how we simply call it – Grah. It is super simple to make but so flavorful. It's basically beans, some sort of smoked meat like ham hocks or bacon, sausage, and some veggies (I go simple with just carrots, onions and celery root). You also add a few sprigs of parsley, some garlic, paprika, salt and pepper and later on you finish it off with some roux. It is always served with some fresh onions and sliced bread and it's a big bowl of pure comfort food!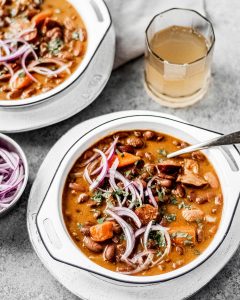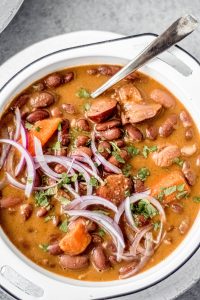 Bean Soup
2020-01-10 21:11:04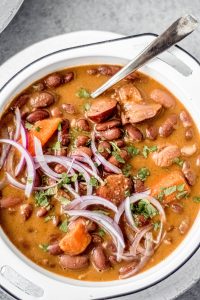 Serves 8
Croatian bean soup with smoked ham hocks and sausage
Nutrition Facts
Amount Per Serving
* Percent Daily Values are based on a 2,000 calorie diet. Your Daily Values may be higher or lower depending on your calorie needs.
Ingredients
1 lbs dry pinto or kidney beans
2 ham hocks
*I also had leftover ham bone with some ham on it saved from Christmas and it was amazing for this!
Kielbasa 6 to 8 oz, sliced
half an onion, cut in half
2 cloves of garlic, minced
2-3 carrots, sliced in about 3" pieces
1/4 of a celery root, cut in half
few sprigs of parsley
1 tsp paprika
salt and pepper
2 Tbsp roux
for roux
2 Tbsp flour
2Tbsp oil
Instructions
Night before put your beans in a large bowl with water and let soak over night.
The next day put your beans in a large pot with water and bring it to a boil. Let it cook for ten minutes then discard the water and fill it back up with hot water. When it comes to a boil again put in the onions, carrots, celery root, parsley, paprika, garlic, salt and pepper. Add in the smoked meats you are using and cook for one hour.
Now add the kielbasa and cook for another 20 minutes.
While Kielbasa is cooking prepare the roux. Add the oil to the pan and then the flour. Cook constantly stirring until it is deep brown in color. After 20 minutes add the roux to the soup and cook for another 10 minutes and then it is ready.
Traditionally this dish is served with thin slices of fresh salted onions and sliced bread, I cannot imagine eating it any other way!
Notes
Total cook time is one hour and 40 minutes but you do need to soak your beans the night before for this soup. You could use canned beans if you want to.
Mogwai Soup Blog https://www.mogwaisoup.com/