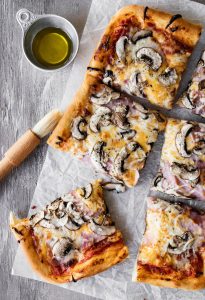 So full disclosure, I usually buy my pizza dough. My local grocery has a really good one and it's so easy to add it to my weekly order. I have Breville Pizzaiolo oven and we make the most wonderful pizza in it every week. It requires zero effort and clean up and I just roll out the dough and go. I have almost authentic wood fire pizza oven within minutes (best gift ever, thank you hubby). But every now and then I get a craving for a fully homemade pizza that I grew up with in Croatia. The one that my mom made and the kind you could get at local bakeries by the slice (square slice). I have to stress that you do you, but for me, this pizza HAS to be in a rectangular shape. It's an experience and nostalgia and just try it. This type of dough gives a bit thicker crust and I usually like thin crust pizza, but this is not a regular pizza. This is my ham and mushroom pizza that my mom used to make and it is it's own category. Even though you could certainly make this combination, I really recommend you try making your pizza dough. It is so very easy and a beautiful dough to work with!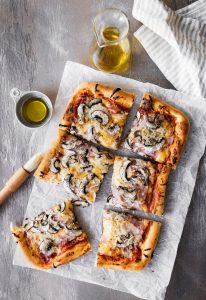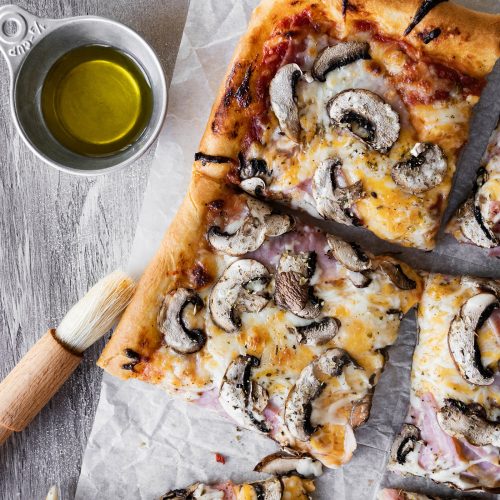 Ham and Mushroom Pizza
Homemade pizza dough topped with ham and mushrooms
Ingredients
For the Pizza Dough
480

g

all purpose flour

240

ml

water

warm

1

tsp

active dry yeast

heaping

1

tsp

sugar

1

tbsp

olive oil

1

tsp

salt
For the pizza
1

cup

pizza sauce

10-12

slices

of ham

1

cup

shredded Mozzarella

1

cup

shredded Gouda

or something like mild Cheddar

5

Cremini mushrooms, medium to large size

thinly sliced

1/4

tsp

oregano

pinch

sea salt

1/2

tsp

olive oil

for brushing
Instructions
For the Pizza dough
Weigh your flour. Add sugar and yeast to warm water and let sit for 5-10 minutes until frothy.

Add the flour to the bowl of your stand up mixer. Pour the water and yeast mix in and add salt and the olive oil. Mix with the dough hook for 8-10 minutes.

Take the dough out on lightly floured surface and knead with hand for a minute then shape into a ball and rub with olive oil. Return to the bowl, cover with plastic wrap and let proof in a warm spot for about an hour or until doubled in size.

Once doubled in size, take your dough out and split it in half. Shape into two balls and let rest under a kitchen towel and on lightly floured surface for about 30-40 minutes.
For the pizza
Preheat the oven to 500 degrees.

Rub your sheet pan with olive oil. I used two quarter size sheet pans. If you are using a bigger pan size just leave the dough whole instead of splitting it into two balls.

Shape the dough into roughly the size of your pan then transfer it into the pan and make it fit nicely from edge to edge. Press with your fingers slightly around the edges to create a nice crust area (always my favorite part).

Pour the pizza sauce on and spread all over, stopping about half an inch from the edges.

Spread half of the cheese. Arrange ham evenly then spread rest of your cheese. Now top with mushrooms and finish off with dry oregano and sprinkle of sea salt. If you are using two smaller pans repeat with the second dough.

Bake for 10-12 minutes on 500 degrees until the edges are golden brown. As soon as you get it out of the oven brush the edges with little bit of olive oil.

Slice into squares and enjoy!