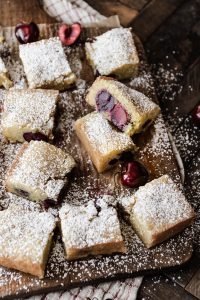 This is a very nostalgic cake for me. As are these photos and it makes me happy. The board, the towel and the cake itself remind me of something I would have seen in in my great-grandmothers little kitchen. She made this cake for my grandmother growing up who learned how to make it from her. Then my grandmother made it for my mom growing up and she learned how to make it from her, and I grew up eating it and my mom taught me how to make it. It is ridiculously simple yet so good and satisfying.
While south of Croatia – Dalmatia, has a lot of Italian influence in its cooking, northern part has a lot of Austrian and German influences and this is one example. The beauty of this cake isn't just in how simple and yummy it is – you weigh the whole eggs (3 or 4 for example) and use the same weight of sugar, flour and butter in the recipe – it's brilliant, but also that you can make it with any fruit. I have made it here with my favorite cherries, but it is amazing with strawberries, blackberries or blueberries and really good with peaches too. Oh and plums, I almost forgot, I really love it with plums. It was on our table almost every Sunday after lunch when I was growing up and my kids now love it just as much as I did. Cherry version just happens to be their favorite, they got their love for cherries from their Mama!
Also, can you see those two cherry twinsies on that cut piece of cake? First when I realized how they were right next to each other I was annoyed. I actually decided to scrap the shoot, remake the cake (let's face it, I've made it several times over the past weeks) and shoot it again. But then I stopped myself and decided that I love it. It wasn't planned, they just happened to be next to each other like that and they are twinning and now I think it is perfect in it's imperfection! It's my special piece of cake because everyone knows (especially tiny little hands) that the more cherries you get in your piece the better, so this one was the first to go.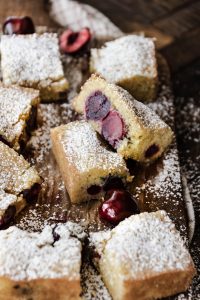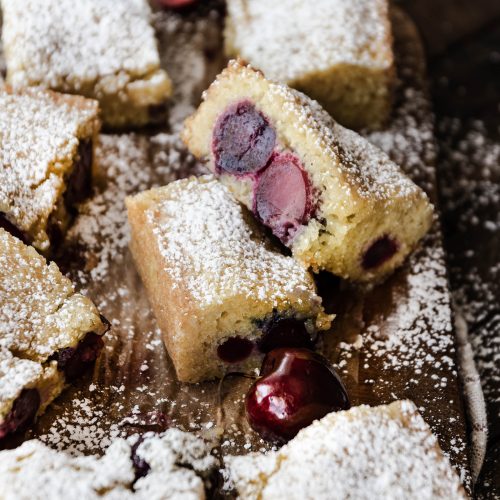 Gleichgewicht Cake
Soft and moist cake filled with cherries finished with powdered sugar
Ingredients
4

eggs

240

g

flour

240

g

sugar

240

g

butter

1/4

tsp

salt

12

g

baking powder

1

tsp

Vanilla extract

3

cups

cherries

1

lemon, peel only
Instructions
Preheat the oven to 350 degrees.

Divide your eggs into yolks and egg whites. Beat the egg whites until firm peaks form and set aside.

Beat sugar and butter together for 3-4 minutes then add the yolks, one at a time and beat well after each addition. Add the vanilla and lemon peel.

Mix flour with baking powder and salt then add it to the butter and egg mixture and mix for another 30 seconds until well combined. Carefully fold in the egg whites.

Prepare your 9x13 baking dish by spraying it with cooking spray then pour in the batter. Arrange the cherries on the top and bake for 30-35 minutes.

Let it come to room temperature before sprinkling it with powder sugar and slicing.
Notes
My boys love a glass of milk with this treat!
Also, if your baking dish is smaller the formula for this cake is to just weigh the eggs whole with shell on. Use that same amount of weight in flour, butter and sugar and just adjust the baking length by shortening it for about 5 minutes.