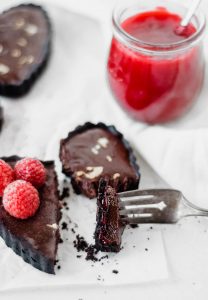 I haven't baked much lately and the only other thing besides the blood orange bundtlets that I made for Valentine's Day are these mini chocolate tarts, heart shaped of course. I may have not baked too much, but these two treats are so yummy. The raspberry coulis under that chocolate ganache is just amazing and takes this tart to a whole new level of yummy and truthfully, these are quite easy to make! I've made this dessert before as a regular sized tart and it's also amazing, but why not make it a bit more fun with these cute little heart shapes! It's the season 🙂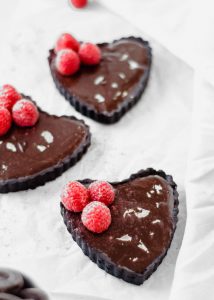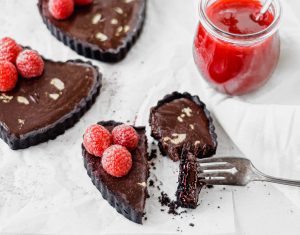 Mini Chocolate Tarts
2020-02-05 18:19:03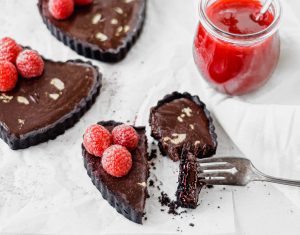 Serves 6
Mini heart shaped chocolate tarts filled with raspberry coulis an chocolate ganache!
Nutrition Facts
Amount Per Serving
* Percent Daily Values are based on a 2,000 calorie diet. Your Daily Values may be higher or lower depending on your calorie needs.
For the dough
1 1/2 cups all purpose flour
1 cup confectioners sugar
4 Tbsp dark cocoa
pinch of salt
1 tsp vanila extract
10 Tbsp cold butter
1 egg
For the ganache
6 oz dark chocolate (I used Valrhona)
1/2 cup heavy cream
For the raspberry coulis
6 oz raspberries
1/2 cup sugar
2 tsp lemon juice
Instructions
Preheat the oven to 350F.
To make the chocolate tart dough, blend all of the ingredients in a food processor until it starts forming a ball then transfer on a piece of plastic wrap, form into a disk, wrap and put into the fridge for 30 minutes.
Butter your tart pans then roll out the pastry to 1/8" thickness. Cut it into six pieces an then fit them into the pans and gently press into the crevices and sides of the heart shapes making sure you are forming a nice edge. This is less trickier in circle pans but still very doable.
Put the pans with the dough into the fridge for about 15-20 minutes then prick the bottoms with a fork. Line each one with baking paper and fill with beans or rice, this will help the dough not rise. Bake like this for 10 minutes then remove the paper with the beans or rice and bake for another 10-12 minutes.
In the meantime make the ganache by heating up the heavy cream and pouring it over your chocolate. Let it sit like that for a minute and then stir. If it doesn't completely melt you can put it into the microwave in 30 second intervals until fully melted.
To make the raspberry coulis put all of your ingredients into a small pot and cook on medium heat for about 20 minutes, stirring occasionally. Blend well then put through the strainer to catch any leftover seeds, you want this perfectly smooth. Let cool.
Once the tarts are out of the oven and cooled pour a tablespoon or so of the raspberry coulis on the bottom of each one and put into the freezer for 15 minutes. Once set pour the chocolate ganache to the top of each tart and let cool completely before serving.
I decorated mine with extra raspberries and some edible gold leaf and I thought they came out really pretty!
Mogwai Soup Blog https://www.mogwaisoup.com/