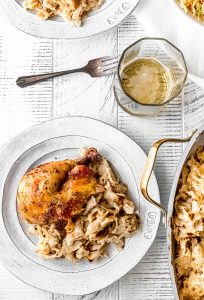 I'm back with one of my favorite meals from Croatia. Roasted chicken (young chicken to be exact) with Mlinci.
Mlinci is a traditional side dish from northern Croatia. It is a thin dried flatbread type pasta that is easy to prepare by pouring boiled salted water or broth over it. Traditionally it is eaten with a roast and after it is softened it is tossed in the pan juices, in this case of the roasted chicken.
I grew up eating it and it is by far my favorite side for a roasted chicken, duck or turkey, it is almost always served on Christmas as a side dish to turkey and I make it whenever I can, but fun fact (not fun at all) my husband doesn't like Mlinci. He calls them wet tortillas haha. They are so NOT wet tortillas but for someone who didn't grow up eating this and isn't in general much into pasta dishes, I see how he isn't a fan. Luckily my boys are total fans and we enjoy them together! There is nothing better to accompany yummy chicken than soft, juicy, salty Mlinci, Yum!!!
I've made them by myself a couple of times but whenever I go to the Bosnian store here in SLC, I grab some because it is super convenient. I am including a recipe if you'd like to try this Croatian specialty!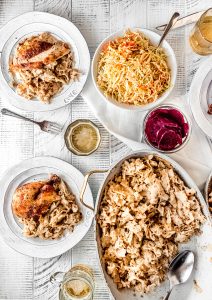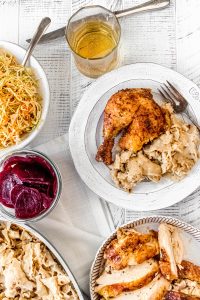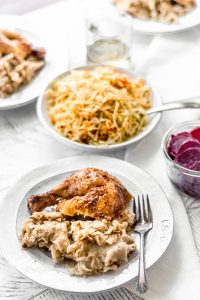 Roasted Chicken with Mlinci
2020-02-19 20:12:01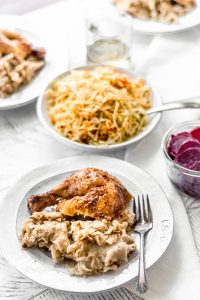 Serves 6
Roasted young chicken with traditional Northern Croatian side - Mlinci, a type of dry flatbread pasta soaked and tossed in pan juices
Nutrition Facts
Amount Per Serving
* Percent Daily Values are based on a 2,000 calorie diet. Your Daily Values may be higher or lower depending on your calorie needs.
For Roasted Chicken
4lbs young chicken
3 Tbsp salt
2 Tbsp Dijon mustard
2 Tbsp canola oil
1 Tbsp Italian seasoning
1/2 tsp garlic powder
1/2 tsp freshly ground black pepper
1/2 cup dry white vine
For Mlinci
320g all purpose flour
1 tsp salt
1 cup water
Instructions
3 hours before cooking rub the chicken well on the inside and the outside with about 3 Tbsp salt and leave in the fridge for 2 1/2 hours.
Preheat the oven to 400 F. Take the chicken out of the fridge and let it rest for 30 minutes.
In a bowl combine the mustard, oil, Italian seasoning, garlic powder and freshly ground black pepper and rub it well all over the chicken.
Roast the chicken at 400 F for 30 minutes then lower the temperature to 350 F for about another hour. Baste it every 15-20 minutes and depending how crispy you like the skin, you can broil it for couple of minutes in the end.
Remove from the oven and let rest for 10 minutes before cutting it. Add the vine into the pan and deglaze it on the stove top burner, cook for a few minutes then turn the heat off.
To make Mlinci combine the flour with salt and water and knead for a couple of minutes. Let it rest for 30 minutes and then split the dough into 4 pieces. Roll each piece to just about 1/8" thickness and then carefully transfer on a baking pan or a cookie sheet (sometimes it's easier to turn the pan upside down and bake them like that, just depends on your pan and size of the dough). The bigger the better but you might cut it in half to fit onto what you have. You will do this 4 times, then bake them at 450 F for 6-7 minutes. You want to dry them out and get some color on them and it's ok if they get some charred pieces here and there.
Let them cool slightly then tear them into chunks and put into a deep bowl.
Boil about 10 cups of water with a tablespoon of salt and then pour over Mlinci. Let them sit like that for 4-5 minutes then drain them well and transfer into the pan with the juices from roasting the chicken.
If needed season with little more salt and serve with your chicken and a salad. I served mine with simple shredded cabbage and carrot salad seasoned just with salt, pepper, oil and vinegar.
Notes
Usually when I roast a chicken I like to put some herbs, a cut up lemon and garlic into the cavity but when I serve it with Mlinci I skip this step. I find that the lemon infused pan juices don't pair as well with Mlinci so I save it for other times.
Mogwai Soup Blog https://www.mogwaisoup.com/